Send an inquiry about remote interpreting services tailor-made to your needs
Are you organising an online conference with participants dispersed in different locations?
Are you planning an online event in a foreign language?
Do you need interpreting services?
We meet the new needs of enterprises that were forced to switch to remote work and meetings with their employees, partners and contractors.
Simultaneous interpreting platforms enable secure interpretation for conferences taking place in new realities for all participants.
Listeners are scattered in their homes in different locations. Interpreters in their homes work remotely from a virtual desktop on the computer, which has replaced their booths. They can also communicate with each other. Thanks to the intuitive application, participants can easily follow the meeting with full understanding.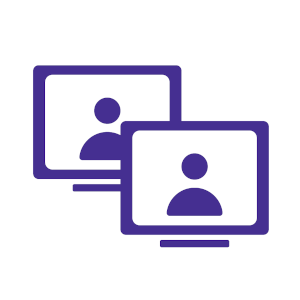 GEMRA tłumaczenia specjalistyczne provides remote interpreting tailored to the client's needs and event requirements:
Completely remote interpreting: carried out using special, professional software. While maintaining the proper precautions, it provides the ability to efficiently organise and implement large events with interpretation into several languages, for several hundred or even several thousand participants.
Hybrid solution (the so-called RSI hub): involves interpreters working from classic booths, set up in a securely organised studio. Appropriate precautions are taken. The interpretation is sent to the platform used by the client. This highly professional solution offers a wide range of possibilities. We use this method particularly when you need to interpret into several languages. This solution even works with an auditorium of several thousand and many language pairs.
Consecutive interpreting: used during training sessions or meetings in a smaller group. In this situation, there is no obstacle for the interpreter to work online on the platform used by the client or event organiser.
Using online remote interpretation is the best and safest way to continue your business under these new conditions. We have already gained extensive experience by providing remote interpreting for many technically demanding online conferences.
We provide a pre-event platform test, training for participants and speakers (to make them feel comfortable during speeches), technical support and secure online interpretation signal transfer.
Everything is designed  for your comfort and sense of security.
In order to choose the right interpreting method, please contact us using the form on this page.

Enter the date of the event and the languages for translation, your email and phone number.
Click Send.
We will present a proposal immediately.